Freeman School District families. Our thoughts and prayers go out to the Rollag and Schoenwald families during this difficult time. The HS main gym will be open from 12:00 - 2:00 PM on 12-3-23 for students and staff to gather, work through their grief, and support each other.
Great job by our Rebels Wrestlers at their tournament today in Kimball. Brody Gossen 1st, Easton Tschetter 1st, Keaton Prehiem 3rd, Logan Pankratz 4th, and Axle Schultz 4th. Great job, boys!
Congratulations to Thor Aanenson on his performance at the State Oral Interp Festival. Friday - humorous ... Superior Saturday- non-original oratory … Superior Freeman also received a team excellence award. Great job, Thor!
Congratulations also to our JH Girls Basketball team on placing third in the Cornbelt Conference Tournament held earlier today in Freeman.
Congratulations to the JH Boys Basketball team on winning the Cornbelt Conference tournament today in Canistota. Great job, Flyers!
The Cornbelt Conference JH BB Tournaments are tomorrow. Boys play in Canistota and girls play in Freeman. Both Flyer teams play first at 8:30 AM. See attached brackets for details.
Freeman Activities for the Week of December 4, 2023
The FFA Giving tree is up! Please help support our local foster families. Grab an ornament off the tree and bring your items back and put them in the boxes under the tree in the HS Library. Contact Mrs. Penner (
Malynda.Penner@k12.sd.us
) for a complete list of items needed.
Freeman Activities for the week of November 27, 2023
Just a quick reminder - today is a noon dismissal from school. We in the Freeman School District are once again reminded of just how much we appreciate you all. We hope you all have an enjoyable and relaxing long weekend with your families and friends. Happy Thanksgiving!
Yesterday at District LDEs, 3 Freeman FFA members successfully advanced to State FFA in Rapid City! Emily Knodel - 1st Extemp Noah McGee - 1st Creed Speaking Claire Hofer - District 3 President Congratulations to those individuals and the rest of the Freeman LDE team!
*** Updated Concert Time *** The 7-12 Christmas Concert originally scheduled for 7:00 PM on Monday, December 4, 2023 has been moved to 7:30 PM on the same night.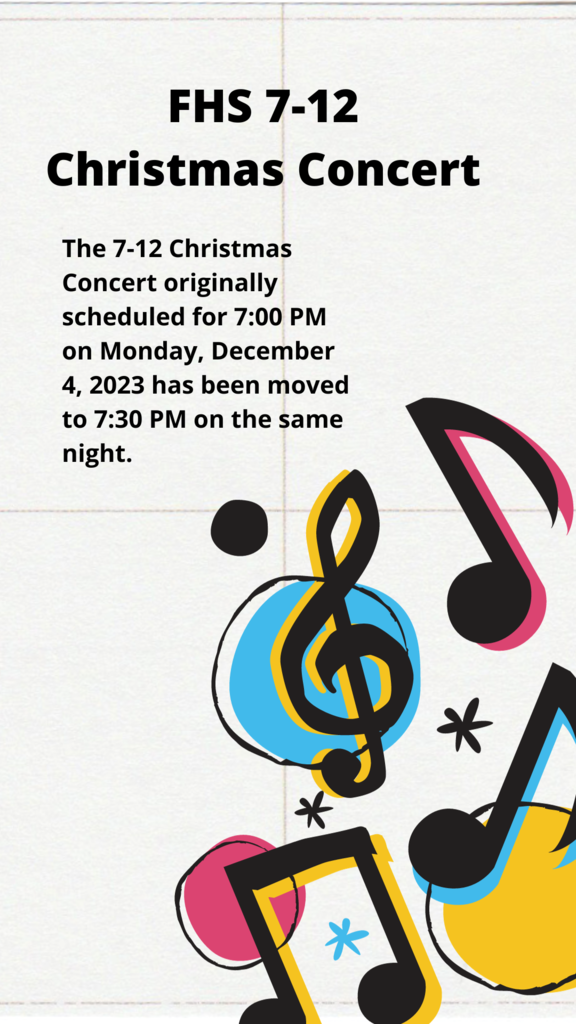 Freeman Activities for the week of November 20, 2023
Today at the Region 2B Oral Interpretation contest, Thor Aanenson advanced to the Oral Interpretation State Festival in both Non-Original Oratory and Humorous! Congratulations, Thor!
The 2023 Freeman Basketball store is now open! The store closes on Monday, November 20, 2023 at 10:59 AM. Scan the QR code in the image or go to the link below to order your Freeman Flyers basketball gear. Go Flyers!
https://freeman-hoops-23.itemorder.com/shop/home/
The 7-8th JH girls basketball team won their tournament at Hanson today. The 7-8th JH boys also went 3-0 in tournament play in Irene. Great job to all of our JH basketball players today!
The FFA competed at the Jackrabbit LDE today in Brookings! Also, two FFA state officers visited the chapter yesterday and did activities with the afternoon classes.
Freeman Activities for the week of November 13, 2023.