Tschetter Colony School
27709 Tschetter Ave.
Olivet, SD 57052
Principal:
Shane Voss
Important Numbers: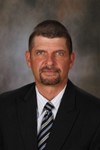 Shane Voss, K - 8 Principal
My life has been influenced greatly by my family. My father was in education over 46 years. I have quite a few family members who are teachers. I have been fortunate to be influenced by some great teachers throughout my academic career.
I believe educators are handed an opportunity to impact the lives of students, and it is our responsibility as educators to embrace that opportunity with an optimistic approach. The ultimate purpose of Education is to develop each student to become a productive member of society in which he/she will live upon completion of his/her education.
It is my goal for students to participate in the various activities of this school, to develop and accept responsibilities of good citizenship, and work to develop their talents and abilities to the utmost. If all these things are met we will have a positive educational environment established for students.
Education is a gift and a privilege that all students, no matter their social status, race, or ethnic background, should receive. Education will enhance society as a whole, and this can only be accomplished through the hard work and dedication of students, parents, teachers, administrators, and school board members.
10/7/2016